Fancy Text Generator
(copy and paste fonts)
Fancytextgenerator.io is one of the best tool to create amazing unique fancy text.
It helps you to create stylish text font styles for your social media profiles or your gaming profiles.
Lunicodes Fancy Text Generator
Squiggle Fancy Text Generator
Symbolic Fancy Text Generator
Freaky Fancy Text Generator
Boxed Fancy Font Generator
Joiner Fancy Text Generator
Emoticons Fancy Text Generator
Fancy Text Generator
If you love to use fancy text to your social media profile or gaming profiles then you must be searching for some cool fancy text generator tool. So here we are sharing one of the best fancy text generator tool. Foremost, we need to know the importance of fancy fonts. Where should we use fancy fonts & What is their importance? Here we will find the answer to both questions rising in your mind. It is very popular among youth.
Yes, we should use fancy and cool text, to make our profile unique. Cool fancy text generator will help us to improve followers on our profile if followers will strengthen our sales will also improve. Followers and sales are particularly proportional to each other. So fancy font is very important for our sales and marketing. It improves engagement and makes the best role to optimize our website of social media account.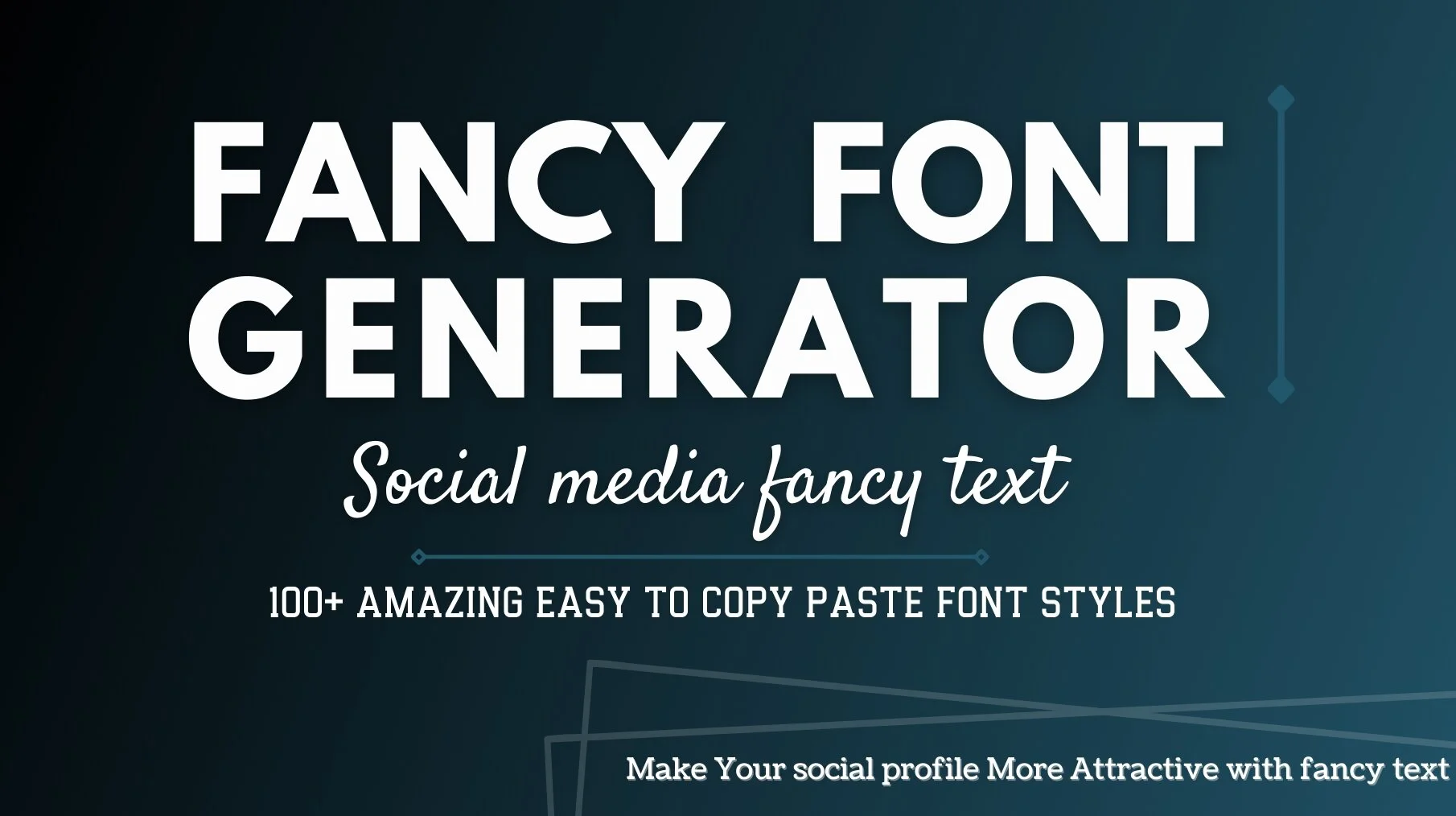 What is a fancy text generator?
To grab attention to a huge audience on your website, article, social media, etc, a fancy cool text generator plays a very important role. Today, fancy text is gaining popularity. Everyone wants to use fancy text. It is helpful in various ways. For optimization purposes, it is necessary. It also makes data secure.
There are a lot of tools for fancy generator text. Through it, we can translate our simple text into fancy and cool. It makes our text unique, which helps us to improve the gathering of people. We should know how to use text which optimizes our site or profile in the right ways. We got many options, but we should choose simple with cool text which easy to understand for the audience.
Why is Cool Fancy text generator Popular Among Youth?
Fancy text generator is popular among youth because Instagram is very sensitive to text. The algorithm of Instagram is working differently for unique text. It helps as an SEO for Instagram.
Youths also love to create their name in cool or fancy styles, here we will find various kinds of text design. Like as emojis, attractive backgrounds, different languages text, and so on. Youths also want to comment and messages with cool text. That is the reason it is very popular among youth.
Fancy text generator copy and paste fonts
• Copy and Paste. We might be not past the same text that we copied. That is the reason we should preview to paste the text on notepad or word file. The error you have to face Sometimes it might be possible that you have to face a small issue in cool text font generator for some text, not for all.
• To copy and paste fonts cool fancy text generator gives errors sometimes. But you will not face trouble with all text.
Fancy text generator for discord
• To chat and comment, people widely use discord fancy text generators. This is the era where everyone makes their existence with unique identification. Through the unique and cool text, you can make your identification unique. It will help you to grow your page fast. Discord text allows converting text into cursive, gothic style, double struck, and many more. Discord text generator benefited us with many types.
• To make comments attractive and to chat with alternate text discord text is a very good option. Converting the simple into fancy text is very easy.
Fancy text generator for Facebook name
The Facebook name is the first step to making our profile searchable. We do everything for improving the search of our profile. Fancy text will work as a USP for our profile. It makes your username unique. If people search name, the unique text comes top of the list. The name plays a very important role in Facebook marketing. It helps you to popularize your brand.
You can find stylish text generator for fb name from various tools. The tool will easily convert your simple text into stylish text. A stylish FB name will be very important for your FB account. To convert the simple text firstly we have to paste the simple text into the input section then we will get stylish text into the output section. Here you will get multiple options and select one of them.
Fancy text generator for Instagram
• Fancy Text is very actively working on Instagram. Fancy text is used in many places on the platform like in the story, Reels, Post, Captions, Bio, and Username.
• To gather people on Instagram, firstly our bio plays a role. To make bio impactful and strong, we should use fancy and stylish text.
• Then after, our username matters. Design username with unique strings that make our identification unique and improve followers.
• There are many cool text generator for Instagram on Google. As you search the same keyword you will find a long list, select one of them and use it. The process is very easy. First of all, write the simple text in the input section, you will get results in the output section.

Fancy text generator for Minecraft
• To convert your simple text into fancy text, use the Fancy text generator for Minecraft. It will make the simple text into stylish and fancy text. You can easily convert the text through the system via a mobile. Minecraft text is widely popular for logos. You will find 3D, animated, graphics, and more options.
• To cool text generator for Minecraft, you have to follow some steps and can get the impactful keywords. First of all enter the keyword, in the search box. You will find a long list. Hit one of them, you will find a box. Paste or enter your value. You will find more than 20 options. Click on copy and paste where you want.
Fancy text generator with symbols
• Multiple people want to use symbolic text. Symbols text is enhance our visibility and gives a unique identification to our bio and profile. It works as an SEO. It plays an essential role to optimize our page.
• If you are also passionate about pubg games and want to make your profile name with pubg style, then pubg stylish text generator with symbols is the right choice for you. It will fill your profile ascents of your favorite game. There are more than 500 symbols. You will make your profile more cool and fancy.
• If you are passionate about the cool text, you can use a cool text generator with symbols. Here you will get a lot of options for cool text options. You will get more than 500 symbolic texts. It is very easy to generate cool symbolic text. There is the same process as above. Just you have to enter the keyword, you will get the list.

How To use the Fancy text generator tool step by step?
It's absolutely easy to use the fancy text generator. You follow just three steps to generate your cool fancy text. Using this anyone can use this fancy text generator tool.
1. Enter your normal text to the fancy text generator textbox you want to generate.
2. Click on your favorite fancy text box to copy the fancy text to your clipboard.
3. Paste the fancy text on any social media account to share with your friends & family.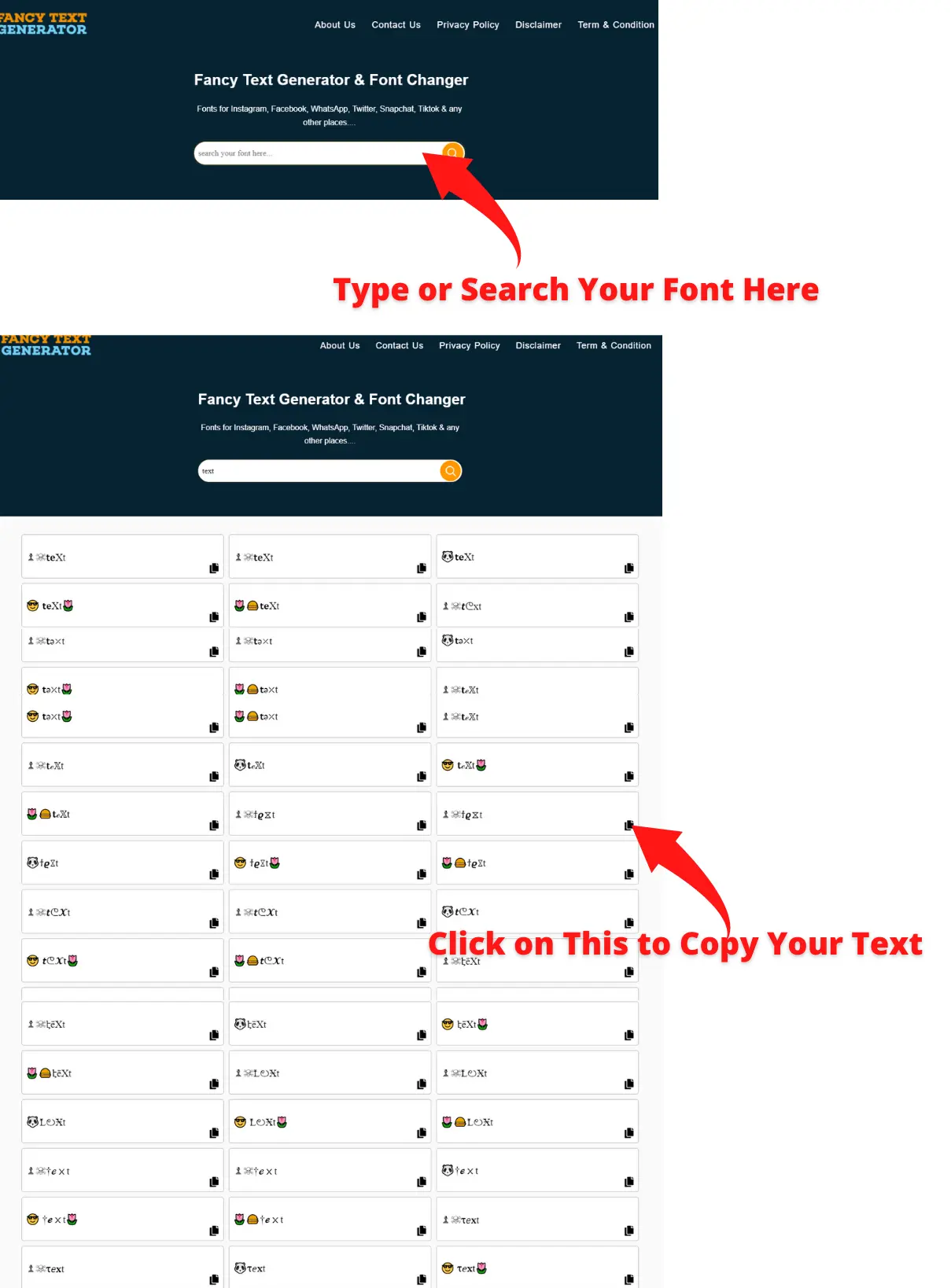 Using the Fancy text generator tool is very easy. You should follow the steps one by one.
● Go to search engine and search your query fancy text generator.
● Open Fancytextgenerator.io site.
● You will see text area here.
●Enter your desired text here.
●Below you will see lots of unique and different fancy text style.
● You can copy & Paste these fancy text in your notepad or word file.

Best fancy text generator font lists 
There is a list of fancy text generator tools :-

• LUNI TOOLS FLIP - ʇxǝ⊥ ʎɔuɐℲ
• REVERSE MIRROR - ɟɐuɔʎ ʇǝxʇ
• SQUARES - 🄵🄰🄽🄲🅈 🅃🄴🅇🅃
• LUNI TOOLS MIRROR - ƚxɘT ʏɔᴎɒꟻ
• INDIAN WAY - ԲคՈ८ע ੮૯૪੮
• BIG RUSSIAN - FДИCУ ΓΞЖΓ
• ASIAN STYLE 千卂几匚ㄚ ㄒ乇乂ㄒ
• SUPERSCRIPT (SMALL) - ᶠᵃⁿᶜʸ ᵀᵉˣᵗ
• SUBSCRIPT (SMALL) - Fₐₙcy ₜₑₓₜ
• LUNI TOOL STINY - ꜰᴀɴᴄʏ ᴛᴇxᴛ
• STRIKE THROUGH - F̶a̶n̶c̶y̶ ̶T̶e̶x̶t̶
• TILDE STRIKE THROUGH - F̴a̴n̴c̴y̴ ̴T̴e̴x̴t̴
• SLASH THROUGH - 𝙵̷𝚊̷𝚗̷𝚌̷𝚢̷ 𝚃̷𝚎̷𝚡̷𝚝̷
• UNDERLINE - F̲a̲n̲c̲y̲ ̲T̲e̲x̲t̲
• DOUBLE UNDERLINE - F̳a̳n̳c̳y̳ ̳T̳e̳x̳t̳
• ARROW UNDERLINE - F͢a͢n͢c͢y͢ T͢e͢x͢t͢
• ATMAN - F̼a̼n̼c̼y̼ T̼e̼x̼t̼
• LUNI CREEPIFY & Glitch (Zalgo) - F̸̨̤̀̈́̋̒̾̉̂͝ã̶̫͎̣̙̦̱̋̄́͂̈͂͝n̴͍͎̰͇̥̈́̔̍̈́͆c̶̛͇̳̞̪̲̲̥̰̪̋̒͜y̵̷̨̛̖͍͍̤͕̯̳̥̺͈͚͓̅̉̈́̈́̓̾͗̕͘͜͜ T̸̹̞̳͔͎̯͔̀̃̿͊͋́̈́͂͝e̴̩̼͗̎̈x̷͖̺̑͛̂̑͂̃͋̄́͠t̴̰̪̗͕̙̐͒̾͌
• WAVY JOINER - ≋F≋a≋n≋c≋y≋ ≋T≋e≋x≋t≋
• WEIRD BOX - [̲̅F][̲̅a][̲̅n][̲̅c][̲̅y] [̲̅T][̲̅e][̲̅x][̲̅t]
• DOTTY JOINER - ░F░a░n░c░y░ ░T░e░x░t░
• LUNI ROUND SQUARES - F⃣ a⃣ n⃣ c⃣ y⃣ T⃣ e⃣ x⃣ t⃣

Conclusion
At last, we concluded that fancy and stylist text is an essential part of Social Media platforms. For blogs, articles, posts, captions, usernames, and many more ways, we used text. If we convert our simple script into fancy and stylist script, it will be beneficial for us. To improve the gathering of the audience, different kind of text is very important.